Jasmin Santanen was honored to collaborate with prestigious Venetien artisans  Martina Vidal and Tessuti Bevilaqua for the "Being Luisa" capsule collection, presented during Venice Fashion Week on March 25, 2022.
Inspired by the decadent style, bold character, and love for the arts and fashion, as well as her exotic pet animals, the Being Luisa collection is an homage to Marchesa Luisa Casati. Emphasizing fierce femininity, along with the importance of the protection of wildlife, the collection showcases a variety of cultural references symbolizing the abundance of her imagination. Combining traditional Venetian lace and hand-made velvets with the contemporary vision and design of Jasmin Santanen, brings forth a comprehensive collection that reflects the different stages of the Marchesa's life.
The delicate lace pieces pay tribute to Luisa's time as an innocent yet sophisticated formal young bride, while the exquisite velvets in animal prints by Tessuti Bevilaqua explore Casati's later years and the friendships she found in these noble creatures. Additionally, the lavish "gentlemen's club" tuxedo-inspired pieces highlight her intellectual influences and independent way of life through masculine audacity complimenting her natural flair. Her lifelong relationship with author/philosopher Gabrielle D'Annunzio, a fervent follower of German Philosopher Friedrich Nietzsche, served as a reference for her transformation towards "A Living Work of Art" giving a new meaning to the surrounding beauty and life of arts Nietsche, as well as the Aesthetic Movement of the late 19th century.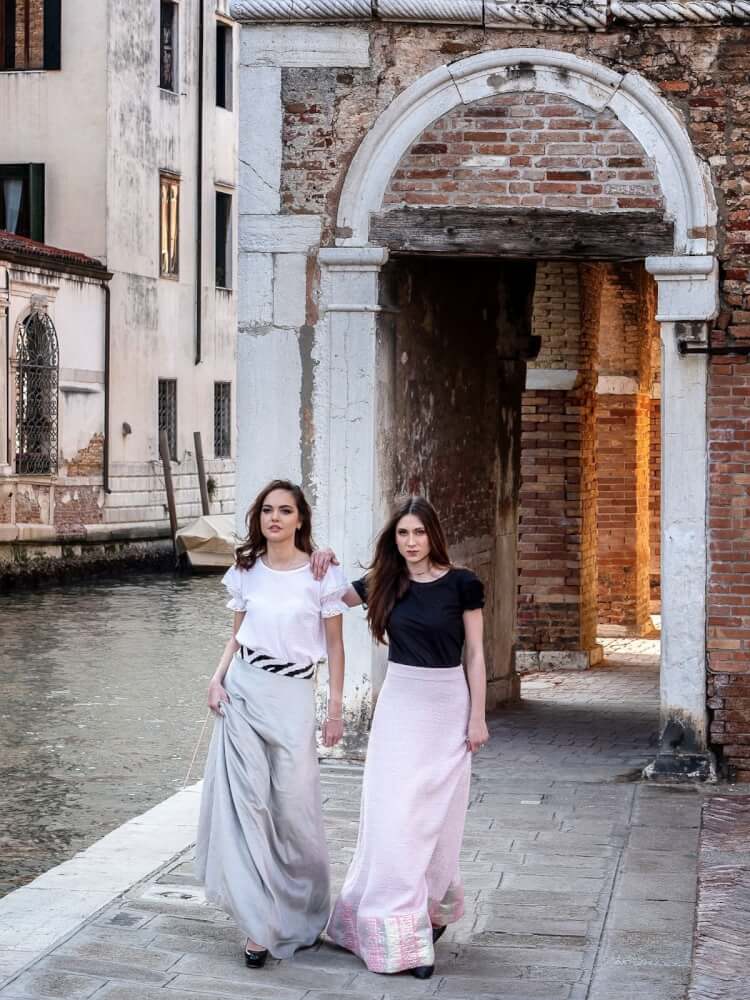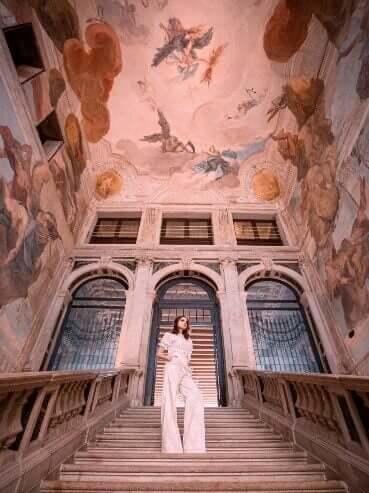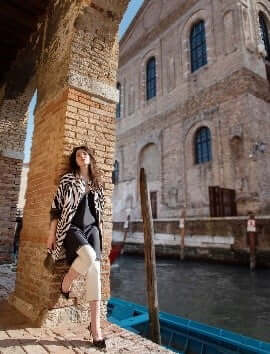 The luxurious 15th-century CaSagredo fashion show location, created a perfect backdrop for the collection, referring to Marchesa's fascination and love of the "Floating City" while accentuating the elegant designs. Heartfelt thanks to our event partner Veneziadavivere who introduced us to so many authentic craftsmen and talent from different fields, including Hair and Make up artist Patrizia Momi, our lovely models as well as the amazing team of photographers, Giada Copolla, Marco Sanfilippo, Marta Formentello, Mauro Mollicone, Rossana Viola, Sebastiano Bubacco, and Stefano Mazzola.
View behind the scenes here.
Marco Sanfilippo / Venice Fashion Week
A special thank you to the Finnish Embassy in Rome for their support reinforcing the warm relations between Italy and Finland.